(art by MikaMikhailovna)

This is a bit belated, but relevant enough.

Recently it occurred to me that two very similar movies came out, despite their having extremely different stories meant for entirely different audiences. These two are both adaptations of books, featuring dystopian futuristic societies overrun by corporations, scarcity of natural resources, and a youthful protagonist meant to be the symbol for revolution. I am, of course speaking of The Lorax and The Hunger Games. Let's talk about them.
"Why these two movies," you might ask. They are admittedly very different beasts. The Lorax is admittedly a kids movie, and The Hunger Games is kids killing other kids. I still find them an interesting parallel. Both came out near each other and both choose to take up allegorical messages based on the ills of capitalism. One of these did this quite well, made tons of money, and gained the praise of nearly EVERYBODY. The other one pleased a few people but not many. I HATED it.


My analysis on these movies on their stand alone merits isn't going to be extensive because I already reviewed The Hunger Games, and I didn't review The Lorax because all of my gripes against the thing are taken up by The Nostalgia Chick in her review. But back to the question; why these two? It's not just that they have similar themes, but that the gap in quality between the two is just so large. The Hunger
Games is subtle, insightful and full of shocking authenticity, while the The Lorax can't tell its rights from its lefts.

There is, as far as I can see, a simple reason for this; one movie understands how allegories work and the other doesn't. The Hunger Games not only trusts its story (and bravely I might add) but it does so in such a way that its themes and situations speak for themselves. The Lorax not only fails to understand its own message, but it fails to understand how to deliver the its aimless doctrines through allegory.

Perhaps it would be useful to articulate what an allegory is, and what these two films' particular (attempted) allegories are. An allegory is "a device used to present an idea, principle or meaning." They are often symbolic. The allegory of a work often is the big metaphor the work stands for. Think District Nine and Apartheid, Metropolis and the Industrial Revolution, or Avatar and conflict with Indigenous Americans.

In the case of The Hunger Games, the allegory is a bit layered, but give two primary topics. The first allegory is one of the state of media; the broadcast of The Hunger Games shows invasion and perversion of television and film today. The contrast between the twelve districts and The Capitol also show the discrepancy between the rich and poor under a harshly capital driven society (there are more allegories I'm sure, but these two are the most apparent IMO). The Lorax attempts a metaphorical argument for sustainable development, the idea that natural resources can be used without total depletion. It's also an argument against the
idea of corporations working for profit (which is so ignorant it's offensive, but we'll get to that later).

The major thing The Lorax missed in its message (and the thing that The Hunger Games got right) is the metaphorical function of allegory. The moral in an allegory works better when it isn't stated outright. Sure, The Hunger Games is an obvious metaphor for the unequal distribution of wealth and reality TV gone 'wry, but does it ever take the time to look at the audience and say outright "these things are evil?" It chooses to let the strength of its message stand on its own. The Lorax can't do that because its message is so unsure of itself. Besides that, it chooses to bash its audience over the head with its distaste for corporations and industrialism. The moral of The Lorax isn't to help the environment. It's that Illumination Entertainment hates you for spending money because it hurts living things.

This is largely because The Lorax doesn't understand the archetype of "the evil corporation." See, to start, the type of the evil corporation isn't strictly speaking evil per se. People dislike corporations who do unethical things, but they do them because in a world where there's isn't enough "stuff for everyone to get what they want, someone has to come up short. This is economics 101. First thing they'll tell you in any econ class, scarcity is the reason for the state of any economy. Is some of the things that corporations do to get money still morally reprehensible? Yes. But there's (as NChick pointed out) two sides to this argument. That makes
stories about evil corporations or governments more grounded because the villains have some level of realistic motivation.

The Hunger games illustrates this well. While The Capital is tyrannical and mean for the way that it treats The Districts, they at least have a reason. "We're doing this because oppression is the easiest way to get peace" isn't an ethical justification, but it at least it makes sense.

The Lorax on the the other hand, seems to think that corporations with capitalistic motivations exist solely to make everybody suffer..Problematically its flagship "Evil Co." artificially raises prices on a good that supposedly has scarcity, while painting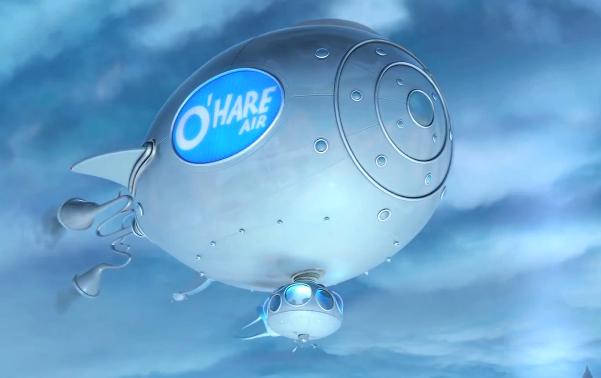 the greedy capitalist CEO as the curly mustached "you must pay the rent" evil-doer. Ironically, O'hare seems to have a monopoly on all air… which debunks that capitalist commentary a bit. Through all this the movie doesn't even concede that its antagonist has any personal reasons for doing anything wrong.

This is why I HATE Aloysius O'Hare as a villain. He's such a blatant caricature of the 1% without having the decency to remember that even if CEO's are evil people, they are still people. Lumping all pathos into the
Oncler leaving an unlikable little dumpy man to be a burnable effigy - it comes off as mean. By blatantly ignoring the genuinely logical reasons corporations work like they do, it almost sounds like a taunting "na-na na-na-na." It feels petty and patronizing. What's more this condescending message doesn't know what it's talking about. It's like a middle schooler arguing politics using the skimmed view of the world they imprinted from their parents.

The counterparts to O'Hare and The Capital show the same point; Katniss as a protagonist is catalytic whereas The Lorax's protagonist Ted is completely useless. Katniss inspires the audience because her motivations come out of sympathy for her sister,
Rue, and Peeta. She's likable and sympathetic. Her desires for change are selfless and require sacrifice. As an avatar for change she's compelling because for Katniss, defying the system to help other people involves risking her own well being and also her sense of self.

Ted risks very little (another NChick point). Ted wants to help somebody (or something since by the final act his motivation is a selfless love for Truffula), The only thing Ted has to overcome though, is a chase sequence through a Dr. Suess set piece, which I'm pretty sure all Dr. Seuss characters can inherently navigate as a benefit of their creation anyway. There's no reason to care whether or not Ted inspires his society to change, because A) It's so easy for him to persuade everyone with song that there's no risk  and thus no payoff for his actions B) The change isn't authentic to a people of not Thneed-ville because there's no real life application. Planting trees decreases global pollution sure, but it won't make any real impact on those people polluting. Change that drastic requires some devastation to industry and thus some pretty negative shocks to the economy.


Ignoring the consequences of that impact is one of the challenges of making good use of a dystopian allegory. A futuristic setting doesn't have value in it's depiction of what we might be, it's in the shock of realizing what we have already become. The Hunger Games is relevant not because of a political revolution that could happen to us. It's relevant because people are already protesting the gap between the rich and poor, and the destructive personal effects of media saturation already affect us. The Lorax's treeless not-utopia is broken because it's more of a predictive future for a society which has already exhausted all of its resources. The gloom of a dystopia is meaningless if the society won't undergo damages that will require painful changes in order to mend the problems. The Lorax… it fixes everything with a song and a planting of one tree.

All of the sa
tire in the fluorescent pastels of both The Capitol and Thneed-ville speak to something; there is an unrest in society today. Otherwise the dystopian allegory wouldn't be repeating in media. What the comparison between The Hunger Games and The Lorax reveals is that there are varying degrees of understanding on what modern tensions in classes and economies are. While there are some commentaries that thoughtfully posit on the state of decay technology gives us, some just are just rhyming verses of schlock. I personally want to see what would happen if you dropped Katniss into Thneed-ville or Ted into The Hunger Games. If it were the case, both movies would be shorter. Katniss would have fixed Thneed-ville in 20 minutes, and Ted would've dropped at The Cornucopia.